Coming soon.
Posts for: May, 2013
By Artistic & Family Dental
May 30, 2013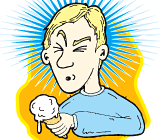 Tooth sensitivity is an all too common problem among dental patients. If eating certain foods or simply touching a tooth causes you pain, you should know why this may be happening and what can be done about it.
Tooth sensitivity occurs in most cases because the portion of the tooth known as the dentin has been exposed. The dentin contains nerve fibers that inform and alert the brain about the current environment of the tooth (temperature or pressure changes). The enamel protects the tooth from environmental extremes.
Receding gums are the most common cause for dentin exposure — the enamel only protects the crown of the tooth and is not present on the root of the tooth. Acids in certain foods can then begin to erode the dentin around the roots and expose nerves. Sweet items (mainly sugar) and temperature shifts irritate the nerve endings, causing pain.
While receding gums (most commonly caused by brushing too hard and too often) may be the most common cause for sensitivity, it isn't the only one — tooth decay may also lead to it. Untreated, decay works its way into the tooth pulp and irritates the nerves. Treating the decay and filling the tooth may also cause sensitivity unless the dentist places a lining designed to minimize it temporarily while the area heals.
Alleviating pain from sensitivity begins with how you brush your teeth. Remember: the goal of brushing is to remove plaque, which does not require vigorous action. Brush gently with a soft-bristled brush and not too often. We might even recommend not brushing a very sensitive tooth for a few days to give the tooth a rest. You should also brush with a toothpaste containing fluoride, which will help strengthen the tooth surface against the effects of acids and sweets.
During an office visit, we can also apply a fluoride varnish or use certain filling materials that will serve as a barrier for the sensitive area. For cases where decay has irreversibly damaged the tooth pulp, a root canal may be the best treatment.
Tooth sensitivity isn't necessarily something you have to live with. There are treatments that can relieve or lessen the pain.
If you would like more information on tooth sensitivity and what can be done about it, please contact us or schedule an appointment for a consultation. You can also learn more about this topic by reading the Dear Doctor magazine article "Sensitive Teeth."
By Artistic & Family Dental
May 15, 2013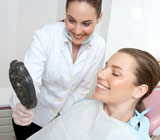 We all know that dentistry can do amazing things these days to give you the smile you've always dreamed of. With the latest cosmetic and restorative dental techniques, it is possible to achieve amazingly natural-looking results. But how do we map out the best route to a better smile? And how do we know that the results will hold up over time?
Every individual has a unique set of conditions in his or her mouth and it is our job to figure out how you have come to your present state, dentally speaking. We need to correct or at least manage any factors that could risk the success of your treatment. These risk factors fall into four basic categories:
Periodontal Risk — This involves the condition of the structures that support your teeth, including your gum and bone tissue. It's important to establish good periodontal health before we perform any restorative or cosmetic procedures.
Biomechanical Risk — This has to do with the structural integrity of your teeth. We will look at whether any tooth structure has been lost due to decay, and take steps to reduce your susceptibility to decay if necessary.
Functional Risk — This relates to your bite: how your teeth, muscles and jaw joints are functioning. For example, do you have excessive tooth wear or joint pain? If so, you are at a higher risk in this category and we need to figure out why.
Aesthetic Risk — This is the most subjective of the categories as beauty is in the eye of the beholder. Still, if you display a lot of your teeth and gums when you smile, any issues you have (gum recession, for example) will be that much more visible and affect your smile more. We will have to take this into account when we plan your treatment.
Only when we have determined how best to minimize your risk in all four of these categories can we restore or enhance your smile in a way that will not only look great but also last as long as possible.
If you have any questions about cosmetic or restorative dental treatment, please contact us or schedule an appointment for a consultation. You can also learn more by reading the Dear Doctor magazine article "Successful Dental Treatment: Getting the Best Possible Results."