Coming soon.
Posts for tag: loose teeth
By Artistic & Family Dental
October 31, 2014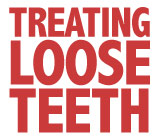 Adult teeth aren't meant to be loose — it's a sign that something is wrong. And while there are treatments, time is of the essence before permanent tooth or bone loss occurs.
Loose teeth can occur for many different reasons. Bite-related problems are fairly common, referred to as occlusal trauma ("occlusal" – bite; "trauma" – injury). This could be the result of excessive force placed on otherwise normal teeth and jaws — chronic clenching or grinding habits, for example. On the other hand, even normal biting or chewing can cause teeth to loosen if bone loss from gum disease has become excessive, reducing the remaining attachment to bone to inadequate levels. In some cases it can be a result of both excessive force and weakened bone levels.
Of these reasons, the most common cause is the weakened attachment of the teeth to the bone due to gum disease. If this is the case, it's important first to treat the gum disease by an appropriate strategy for the disease present and then implement an effective dental hygiene program to inhibit reoccurrence.
As for the problem of loose teeth, there are measures to address it. Occlusal bite adjustment reduces the degree of force when biting or chewing by reshaping the biting surfaces through selective grinding. Splinting is another technique in which the teeth are joined together to make them more rigid and to redistribute the biting force among several teeth. This can be done with material bonded across the outside of several teeth or with a metal splint affixed within a pre-cut channel across the teeth. A more permanent option is to create a series of crowns to affix to the teeth and then fuse them together.
Although more complex, orthodontics to correct misaligned teeth is another option. Not only will it improve the bite and potentially reduce bite forces, it may also improve the health of the supporting periodontal attachment.
Before undertaking any treatment, you should first undergo a thorough exam to determine the true cause of your loose teeth and any underlying conditions. From there we can recommend the best approach for treating and preserving your teeth.
If you would like more information on treatments for loose teeth, please contact us or schedule an appointment for a consultation. You can also learn more about this topic by reading the Dear Doctor magazine article "Treatment for Loose Teeth."
By Artistic & Family Dental
May 30, 2014
There is nothing pleasant about having a loose tooth. It can be very unsettling to feel your tooth move around, and you may be worried about losing the tooth entirely. If you notice any looseness in your teeth, you should make an appointment with our office immediately, so that we can determine the underlying cause.
There are two reasons for loose teeth, and most often, this looseness is actually a late symptom of gum (periodontal) disease. If left untreated, this disease destroys the supporting structure of your teeth, including the bone. As bone loss progresses, teeth gradually become looser, and if you do not seek treatment, this can ultimately result in tooth loss.
Another less common reason for loose teeth is excessive biting forces, including clenching or grinding of the teeth. These biting forces are outside the normal range of functional pressures and can stretch the periodontal ligaments that join the teeth to the supporting bone, resulting in loose teeth.
In both cases, this condition can be classified as "occlusal (bite) trauma." When we examine you, we will determine the type of occlusal trauma that you have.
If the amount of bone supporting your teeth is normal and excessive force is causing your loose teeth, it then is referred to as primary occlusal trauma. Our treatment approach will focus on reducing the biting forces. We may recommend minor bite adjustments and/or custom mouthguards.
Secondary occlusal trauma occurs when gum disease has caused excessive bone loss. In this instance, even normal biting forces can be damaging. We will work with you to treat the gum disease and improve your oral hygiene efficiency to heal your gums. Once the gum tissue heals and the inflammation is reduced, it is likely that there will be some tightening of the teeth. We will then adjust the biting surfaces of your teeth. This is accomplished by carefully reshaping (by drilling) small amounts of your tooth's surface enamel to change the way upper and lower teeth contact each other, thus redirecting forces. Secondary occlusal trauma may also require splinting or joining teeth together, so that they can handle biting pressures. The need for this additional procedure will be determined by your response to treatment and how much mobility of the teeth remains after the inflammation is resolved.
If you would like more information about loose teeth, please contact us or schedule an appointment for a consultation. You can also learn more by reading the Dear Doctor magazine article "Loose Teeth: Biting Forces Can Loosen Teeth."
By Artistic & Family Dental
October 11, 2013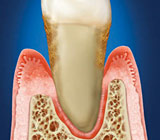 Loose teeth are an exciting rite of passage in childhood; in adulthood, they're anything but. In fact, a permanent tooth that feels loose is a sign that you need to make an appointment with our office right away. The quicker we act, the better chance we will have of saving the tooth.
What causes loose teeth? In the absence of a traumatic dental injury, the culprit is usually periodontal (gum) disease. This is a bacterial infection of the gum and/or bone tissues that surround and support your teeth. The infection is caused by bacterial plaque that sits on your teeth in the absence of effective oral hygiene. Over time, periodontal disease will cause gum tissue and eventually bone to detach from the teeth. As more of this supporting tissue is lost, the teeth will gradually become loose and (if the disease remains untreated) eventually fall out.
Loose teeth can also be caused by a clenching or grinding habit that generates too much biting force. This force can stretch the periodontal ligaments that join the teeth to the supporting bone, making your teeth looser.
Whether the cause of your tooth looseness is biological (gum disease) or mechanical (too much force), treatments are available here at the dental office. The first step in treating gum disease is a thorough cleaning to remove plaque and harder deposits on the teeth (tartar or calculus); this includes the tooth-root surfaces beneath the gum line. You will also be instructed on effective oral hygiene techniques and products to use at home. This type of therapy will promote healing of the gums that will cause some tightening of the teeth. Additional treatments will probably be necessary to gain the maximum healing response to allow the teeth to be most stable. For example, we may also want to temporarily or permanently splint the loose tooth or teeth to other teeth so that biting forces do not loosen them further.
There are other mechanical approaches we can employ to prevent a loose tooth from receiving too much force. For example, we can reshape the tooth by removing tiny amounts of its surface enamel in order to change the way upper and lower teeth contact each other. We also may suggest a custom-made nightguard to protect your teeth if you have a nighttime grinding habit.
The most important thing to know about loose teeth is that it's crucial to intervene quickly. So if you are experiencing tooth looseness, please contact us or schedule an appointment for a consultation. You can learn more by reading the Dear Doctor magazine articles "Loose Teeth" and "Treatment for Loose Teeth."